London Marathon
We are delighted to announce that we have been offered a place for the 2020 London Marathon in the Charity Ballot!
London Marathon - 2019
Jane Dunckley, Head of PE at St Andrew's Secondary School, completed the London Marathon in an amazing 5 hours and 30 minutes! Many Congratulations and thanks from Action in Africa.
If you would like to donate, please use this link https://uk.virginmoneygiving.com/JaneDunckley1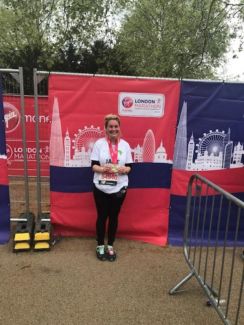 Jane Dunckley
London Marathon - 2017
Action in Africa's 2017 Marathon Man Chris Webb is a Year Group Head & PE teacher at St Andrew's Secondary School, so he was well equipped to deal with the twenty six mile challenge of the UK's most iconic race. He has been in touch with the charity and says he 'was chuffed with it all and had an amazing time! Such a brilliant atmosphere and occasion. Was great to run for such a great cause!' It was brilliant to see our Action in Africa logo on his Superhero shoulders. Chris raised an amazing £2,000! Thank you from the bottom of our hearts Chris and thank you to everyone who has donated! Please see below photos of Chris on the day.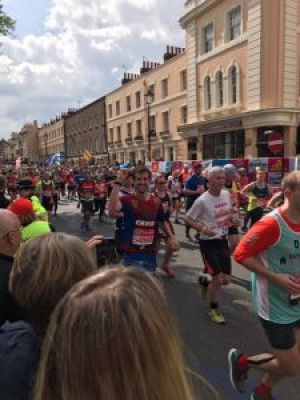 Chris in action!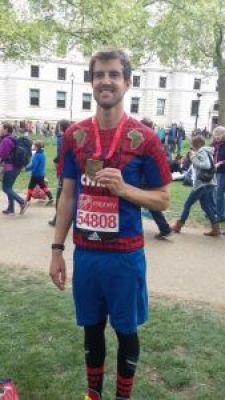 Chris with his medal
London Marathon - 2015
We would like to say a big Thank You to Adam Brooks, Deputy Head teacher at St Andrew's Secondary School, Leatherhead for running the London Marathon April 2015 on behalf of Action in Africa. Our Marathon Man is very modest - it took us a long time to extricate a photograph. He raised a staggering £3,000! Thank you again Adam!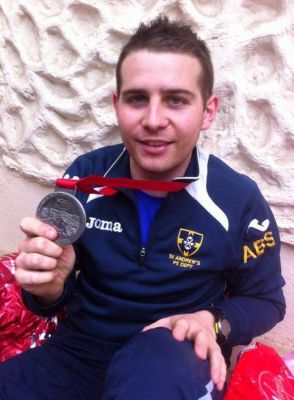 Adam with his medal