Christmas Appeal 2013
We are trying to raise £1000 over the next few weeks to help fund building some huts for the widows in Nyaishozi and provide gifts of food, edcuational supplies, small hand tools for the poor and needy.
London Marathon 2014
Nicky Archer from St.Andrews School is running the Marathon to raise funds for our charity.
See more under Fundraising tab-London Marathon
Mtandika
Recent news from Mtandika is now included in the Mtandika News section of the site.
Famine Threat-Banana Wilt
Banana Wilt is disease that threatens the basic staple food product, which the people we strive to serve in Nyaishozi depend on to feed their families and provide a source of income. The ERSF foundation has generously funded a project, which we have just launched to reduce the effects of Banana Wilt on the lives of the people in four main villages (28 sub villages) in and around Nyaishozi.
The population of this area is 90,000. Click here to Read More
Welcome/Karibu sana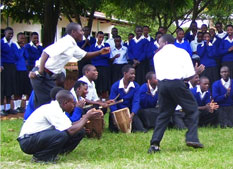 Action in Africa was established in 1997 to form a long term link between the peoples of Ashtead in England and those in the area around the village of Nyaishozi in north western Tanzania. Support now comes more widely in the U.K. and now also extends to a second area in Tanzania, Mtandika in the south east of that country. Read more »
Our Aims:
to provide support in every way possible; primarily by sponsoring students who would otherwise not be able to afford education.

to help overcome the terrible endemic problems of AIDS and malaria but also to provide basic everyday health services.

to help to build economic development, to assist job and wealth creation.