Education
Education has always been our main priority. It was meeting the cost of the secondary education needs of two young female students in Nyaishozi by some parishioners from St. Michael's Catholic Church in Ashtead which began our work.
It was soon recognized that expanding education sponsorship was to be the main focus for the charity. We could help more students who were too poor to access the education system, which was expensive.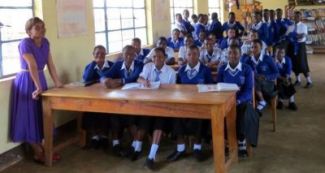 Nyaishozi Secondary School – Female students talk to Matron Regina Mutelani about feminine hygiene
More recently, a Tanzanian government directive stated that all education should be free of charge. This order applies to the registration fee charged by schools for entry. It does not take into account that students need uniforms, stationery, books and shoes. We therefore have created a "Basic Allowance" which provides for these necessities.
Action in Africa's focus was to help provide secondary school education for as many students as our funds permitted. This quickly extended to primary school pupils, as it was clear that children benefited from entering the education system as soon as they were of school age. A vigorous vetting system was set up to ensure that each applicant was the most deserving and that they would make the most of the opportunity. We maintain a careful review of individual reports for each student's progress through primary and secondary school. Headmasters and matrons of participating schools are on the Nyaishozi Action in Africa committee. Despite the distance between Ashtead and Nyaishozi, with modern technology, it is very easy to stay in touch with our students, school staff and our committee.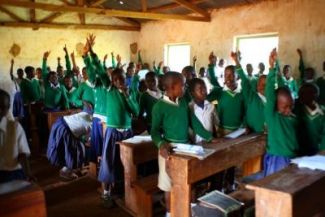 Nyaishozi Primary School Classroom Our education budget now consumes about 50% of the total funds made available to us through all our fund-raising activities and donations. Our current education policy directs us to use about half of our budget to support poor students' education costs and the remainder to help improve the local secondary schools and the Nyaishozi community in general, through one off development capital projects and health initiatives.
Therefore we use our allocated budget to support the education costs of 36 primary and secondary school students and pay for the running costs of a kindergarten, which at present has about 40 children.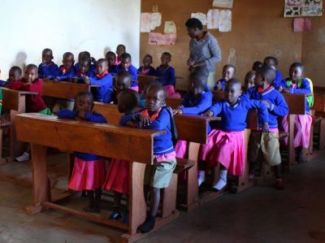 St Charles Kindergarten which is supported by Action in Africa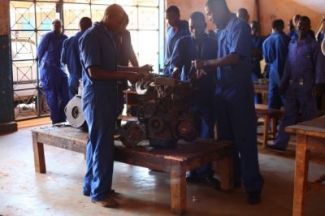 Sponsored vocational student Efrat Shubira (centre) hard at work at his Car Maintenance Class
We have recently set up a vocational sponsorship programme for young men and women who have reached maturity without being able to access the education system.
Vocational courses at Kagera District Vocational Training College provide these young adults with a trade – a skill which enables them to provide for themselves and their families.
There have also been small special support grants to a few poor students whose academic achievements had earned them offers to further their education at universities but needed initial help to enable them to take up their places.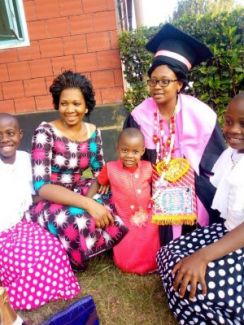 Rebecca Didas on her Graduation Day celebrating with her family
One such student is Rebecca Didas. She ia a qualified midwife and has just graduated with a Masters degree in Midwifery. Action in Africa funded 50% of her college fees. Rebecca works at the local dispensary and is a trustee of the Action in Africa Nyaishozi committee. Congratulations Rebecca!