About Us
Action in Africa was established in 1997 and is a registered charity (reg. number 1072661) under the control of the Charity Commission. Annual reports and accounts are submitted to the Commission and these can be seen on their website.
Objectives
The objectives of the charity are the relief of poverty, sickness and distress and the advancement of education in the areas of Nyaishozi and of Mtandika in Tanzania The beneficiaries are all the people of the area irrespective of race, religion or gender.
Trustees
| | |
| --- | --- |
| Mr Michael Agius | Chairman |
| Mrs Carolyn Higgs | Treasurer |
| Mrs Tina Rayburn | Vice Chair |
| Mr Andy Dutton | Trustee |
| Mr Mike Andrews | Trustee |
Special Responsibilities
| | |
| --- | --- |
| Mtandika | Michael Agius |
| Education | Tina Rayburn |
| Development | TBA |
| Health | Tina Rayburn |
The role of the trustees is:
To consider requests from local management
to agree policy with local management
to agree budgets
to ensure that all activities are carried out in accordance with agreed policy and all monies sent are spent in accordance with that policy
to raise the funds needed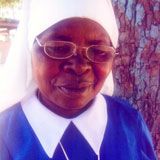 Mtandika
All activities come under the direct supervision of Sister Barberina.
Nyaishozi
MANAGEMENT BOARD:
Fr. Vitalis Bamuhiga- Chairman/coordinator
Mr. Paul Mubiligi -secretary
Mrs .Katusime Nimurodi- Treasury
Mrs, Adela Alobogast - Adivisor
Mr. Serapion Mkwate- Adivisor

HEALTH COMMITTEE:
Sr. Maria-Goreth Kakuru-Member
Dr. Dina Ndyamukama-Member
Rebecca Didace-Secretary
Frolian Buberwa-Chairman
Paul Mubirigi-General Secretary

DEVELOPMENT COMMITTEE:
Mr. Paul Mubirigi-Secretary
Herman Katabazi- Chairman
David Itegeleize-Member
Adrian Kobushoke-Member

EDUCATION BOARD:
Headmasters of Nyaishozi, Rugu, Ruhinda, Nyakasimbi, Kajunguti and Ihembe secondary ( By the nature of their offices)
Head teacher of Nyaishozi, Primary school
Janet Herman-Chairperson
Lucas Kajura-Member
Paul Mubirigi-Secretary
Action in Africa employs no staff in the U.K. All the trustees are volunteers who give their time freely.
Employees
Mtandika
We employ no staff directly but through our support of The Trade School there are some half a dozen people working.
Nyaishozi
Action in Africa directly employs two teachers at the Kindergarten.
St Michael's Clinic was gifted by Action in Africa to the local community so it is their responsibility to run it. With the help of our subsidy, five medical staff including a Clinical Officer and a midwife.