Development
From the beginning of our work in Nyaishozi we have concentrated our efforts on improving the health of the community, which we support, and providing financial assistance for the education of children who would otherwise go without.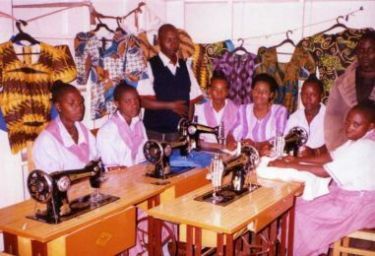 John Simon with Sewing Academy Students
A few years ago we decided to help our friends in Nyaishozi improve the quality of life by instigating a programme of commercial development in the hope that even a small increase in prosperity would have a trickle down impact and in effect increase the meagre wealth of the community. To this end a start was made with support for a Sewing Academy to provide work and teach skills to orphan girls.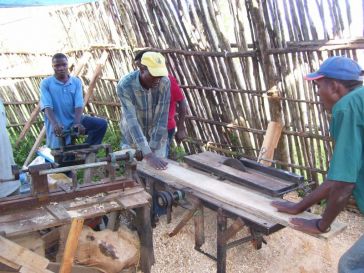 Carpentry Apprentices at Work
Similarly we financed the purchase of a power driven saw for a small sawmill on the basis that some of the orphan boys would be employed. Both businesses now flourish without further help from us.
A more ambitious project saw the purchase of farmland and the establishment of Kantabile Farm. Buildings were constructed to provide shelter for a fine herd of pigs and the chicken house now shelters over 100 hens. The sale of eggs and young pigs helps produce income to cover overheads including farm wages. The staff proudly wear an "Action "uniform and "Action" is a shortened version of our mission statement.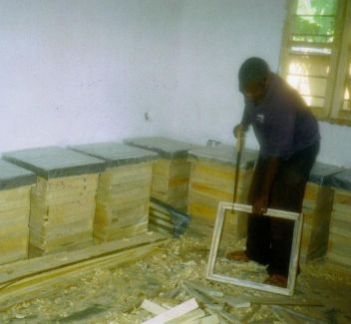 Bee Hive Production
A modern design of beehive in kit form was provided and our carpenters produced a dozen copies which are now strategically placed to generate supplies of honey. Apart from the health benefits of this natural product a spoon full of honey makes a welcome addition to a somewhat monotonous diet of porridge.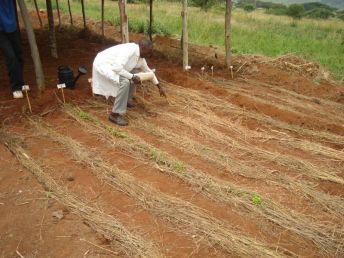 Planting in Nursery
The high cost of imported cooking oil is a heavy financial burden for our community to finance and thus we have supplied an electrical press and filter machine to process the locally grown crop of sunflower. Sadly lack of rain has restricted growth of such crops but rainfall has increased this year and we hope for a bumper crop to keep our machine fully occupied.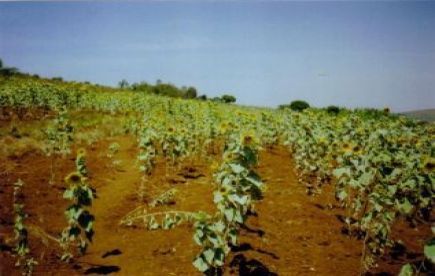 Sunflower Crop suffering from Drought
Our next major project will be to improve retention of rainfall in order to provide some irrigation of crops and thus mitigate the effects of drought in future years. A number of water tanks have been built with local bricks and labour and larger reservoirs are now being actively considered.