Health
Second to Education, helping to fund health programmes in Nyaishozi has always been a priority. Access to medical services has to be paid for in Tanzania and obtaining medical equipment and supplies is a constant challenge.
Nyaishozi dispensary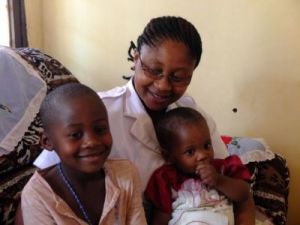 Rebecca with her daughters
Nyaishozi is fortunate in that it has its own dispensary and that is where we target our resources. Rebecca Didas, a former Action in Africa sponsored student, works there as a midwife. As a trustee of the Nyaishozi Action in Africa committee, she is well placed to advise us, through Father Vitalis (Chairman) on the medical needs of the local community. Nyaishozi dispensary has one doctor, one clinical officer, two nurses, two medical attendants and two lab attendants. They see between 40 and 50 patients per day.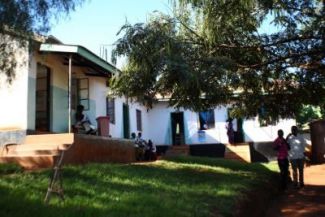 Nyaishozi Dispensary
Current Projects requiring funding
Days for Girls Feminine Hygiene Programme - Phase 2
On the back of the success of our initial feminine hygiene programme, we are currently searching for external funding to finance a Days for Girls training programme in Uganda. We would like to send three local Nyaishozi ladies to the Ugandan chapter of Days for Girls to be educated in the care of the feminine hygiene product. We will then supply the kits to be made up locally with our new teachers supervising and educating female students and women from the community.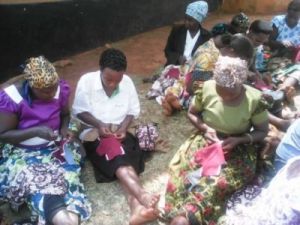 Local Ladies work on their DfG knickers at the local dispensary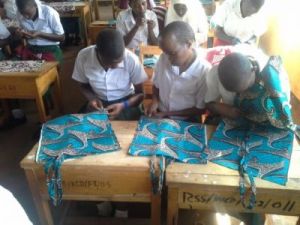 Students at Ruhinda Secondary School making up their DfG Knickers complete with washable liners
Nyaishozi Dispensary Supplies
Nyaishozi Dispensary is seriously lacking in basic medicines and supplies, and Rebecca has provided us with a list of requirements. We recently provided a Haemoglobin Machine from that list, but need to raise £2,500 to buy the remaining items.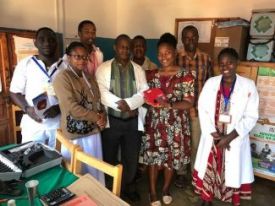 The receiving of the haemoglobin machine at Nyaishozi Dispensary