Health
Healthcare is not free in Tanzania and we have always tried to help in this area.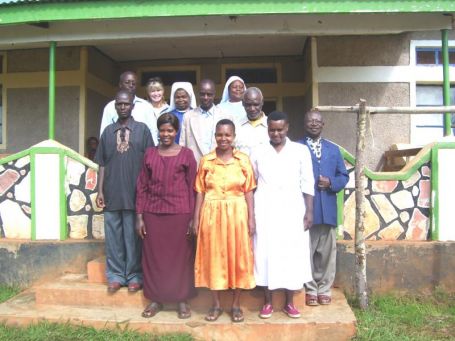 Staff at our Dispensary/Clinic
One of our oldest projects has been the support of what is now called the St Michael's Dispensary in Nyaishozi.
In the past we purchased the dispensary and its assets when it was about to close and gave ownership of it to the local community.


Since then we have:
Refurbished the dispensary building to bring it up to the required national standard necessary to allow it to operate.
Built a large Water Reservoir
We have bought double lens microscopes and the reagents which allow tests to be made which are critical in diagnosis of typically illnesses such as intestinal problems and malaria which very common in Nyaishozi.
Provided solar panels which provide electric light for the first time particularly important in the maternity ward.
We have provided Mattresses and mosquito nets.
Built an Incinerator building as medical waste has to be destroyed locally.
Ensured that the drugs stock is kept up to the required level.
Because the people who use the dispensary are poor it is not possible for the dispensary to remain open without an annual subsidy. We are at present paying the dispensary a subsidy for each patient to help cover the costs but the clients still have to pay for their own drugs as we are not able to fund this.
We have in the last year been able to find some funds to assist the very poor. In these cases we pay the full cost for people who would not be able to obtain any medical support.
Drought has been a major problem over the last few years which has led to malnutrition and some primary schools have had to stop serving porridge due to lack of water. We have accepted that these problems are areas we should tackle in order to prevent future illnesses. We have therefore started to install water tanks at all the primary schools and trial a pilot scheme which will test if it possible to ensure that a emergency food supply is available to supplement the diets of the people of Nyaishozi in time for crop failure.
In the past we have provided hundreds of Mosquito nets for the local children and paid for an education program to explain their importance.
We have also paid for a pit Latrine to be built for the Kindergarten that we support.