2019 Update
2019 has been overshadowed by the tragic death of Sister Barberina Mhagala, Founder and Principal of the Mtandika Trade School, in a road accident in early February 2019. She was returning from a meeting of her Religious Order, the Teresina Sisters, in the Regional Capital, Iringa, when her driver went to overtake a slow moving heavy goods vehicle, only to be met by one coming in the opposite direction. Their vehicle overturned, ending up at the bottom of an embankment. Sister was killed almost instantaneously and her driver suffered very bad injuries to his back. May she rest in peace.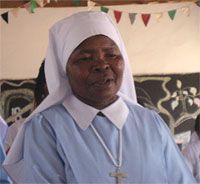 Sister Barberina was inspirational. She always had a passion for teaching and when she had to retire as Headmistress of a succession of very successful Primary Schools, she started building the Mtandika Trade School in 2005, primarily to give a vocational education to girls who could not go onto Secondary School for whatever reason and avoid them ending up on the streets. Not only did they learn how to tailor but acquired a lifestyle that would hold them in good stead once they left the school. As reported last year, the school is now registered with the Government's Vocational and Educational Training Authority [VETA] as the St Agnes Vocational Training College. The college now takes boys, as well as girls, teaching electrical engineering as well as tailoring. Below are photos of Sister Barberina before her death with some of the girls and boys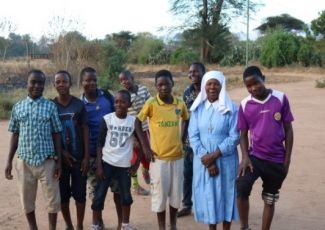 Since Sister Barberina's death, the Teresina Sisters have taken over the running of the college, with Sister Damiana Kikoti as Principal, Sister Restituta Msemwa, as Accountant and Sister Desderia Kalinga as Matron. Action in Africa continues to be in daily contact with the new management. The teachers remain as before, with Shabani Bilaly as Vice Principal and teacher of Electrical Engineering and Engineering Science, Yohana Mtagawa as teacher of Computer Studies and Mathematics, Okoa Mheni as teacher of English and Communications, Technical Drawing and Life Skills and Sylivia Mfalamagoha as teacher of Tailoring, Business Studies and Entrepreneurship.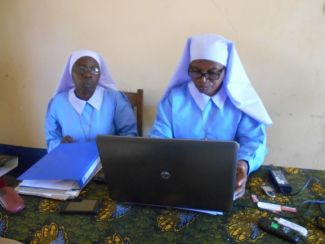 Sisters Damiana and Restituta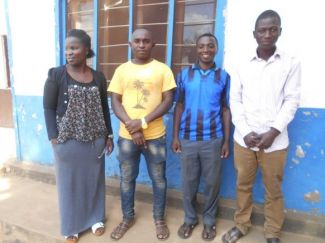 Sylvia, Shabani, Okoa and Yohana
2019 has continued to be a period of consolidation for the college. The tailoring and electrical courses are now well established, with 32 students in total spread over two years. The boys on the Electrical course are now fully integrated not only into life at the College but also in the life of the greater village, frequently playing soccer against the village and secondary school teams. The Hotel Management course has yet to start but the canteen is put to good use providing food for visitors and providing a small income for the college.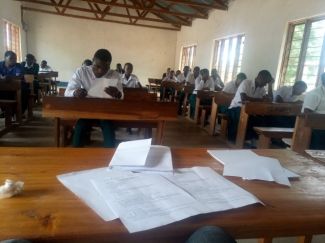 Students taking their exams
As reported in previous years, the Trade School continues to be fairly self-sufficient in terms of food, growing amongst other things their own maize, cassava, rice, beans, onions, tomatoes, bananas and papayas. Any surplus items, such as onions, are sold to provide a small income for the school. Chickens, ducks, pigs and rabbits continue to provide meat and eggs for the students. One of Sister Barberina's last projects was to build a large fish pond in which to breed fish for sale.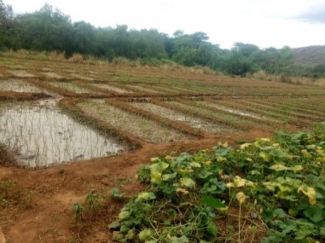 Onion and bean fields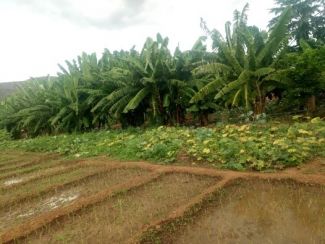 Onions, beans and bananas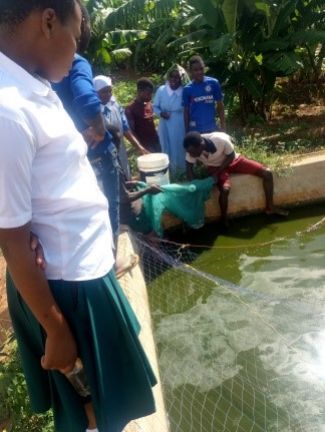 Catching fish to sell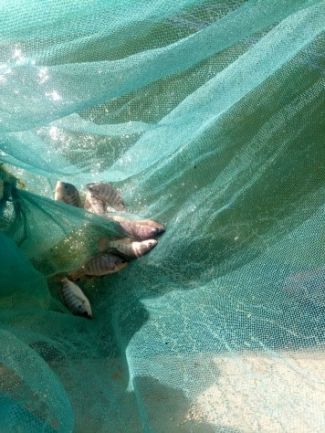 Fish in the net
In addition a small income continues to be derived from providing maize milling (picture below) and photocopying services to the villagers.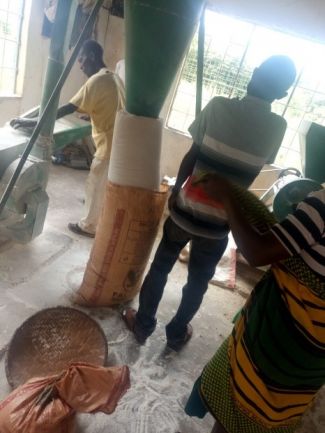 Some 10 of the 32 Trade School students who are orphans or from very poor families, are sponsored through the generous, regular donations from our long term sponsors. In addition to the older Trade School students, half a dozen orphans from about 15 years old down to 7 years, live at the Trade School and go to the village Secondary and Primary Schools. As well as the activities at the Trade School, 19 students, who are either orphans or from very poor families, continue to be educated at Primary and Secondary School level through the generous, regular donations from our long term sponsors. Currently three girls, Maria Makongwa, Beatrice Mwinuka and Teresina Chavala (shown left to right below) are being sponsored through Teaching Degrees at university.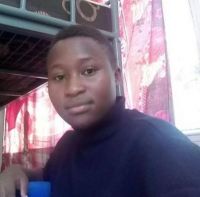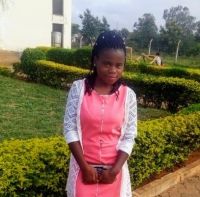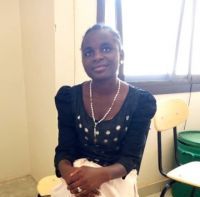 Fundraising is extremely important and two functions were again held this year, a garden party in July, enjoyed by 70 sponsors, which made £1750 and a quiz in November, attended by nearly 120 sponsors, which made £1900.