Past Projects
Besides continually providing funds for badly needed medical supplies and equipment, over the years we have been involved with many successful health initiatives in Nyaishozi. Here are our most recent projects:
Feminine Hygiene Project
This project was run by the Ugandan chapter of the Days for Girls Charity. Days for Girls, an international organisation, provides long lasting feminine hygiene products for girls and women who either cannot access disposable products because they live in remote areas, or because they are too expensive. Detachable knicker linings can be washed and if cared for properly, last for several years. Kits were brought to Nyaishozi and the Ugandan DfG team visited two secondary schools and held an outdoor teaching session for the women in the village.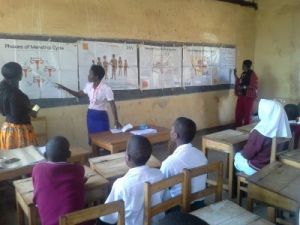 Human Biology lesson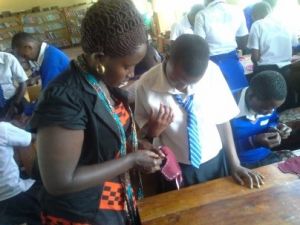 Students at Nyaishozi Secondary School making up their kits and having a Human Biology lesson
The local students and Nyaishozi women were taught how to make the kits and how to look after them. Each participant left with a Days for Girls kit as well as the female students having a lesson on Human Biology – dispelling some of the Tanzanian myths about sex and menstruation.
The schoolgirls and ladies from the village show their completed kits (1)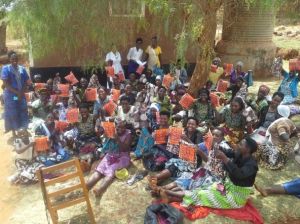 The schoolgirls and ladies from the village show their completed kits (2)
Action in Africa would like to thank the Ugandan Chapter of the Days for Girls Charity and Father Vitalis who was their host while they were staying in Nyaishozi, not forgetting the Hilden Charitable Trust, without whom, the project would not have been made possible.
Placenta Pit
We have funded the building of a 'placenta pit' for the local government dispensary. Up until that time there has been no hygienic way of disposing of afterbirth. The pit will ensure that the maternity area is kept as sterile as possible.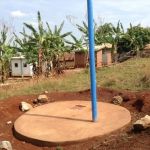 Placenta Pit